By the numbers
Year End 2019
147

AVAs

4,200

Wineries

0.6%

Total Plantings

256,975

Acreage Under Vine (Hectares)

3.92 Million

Crush (Tons)

27,440,000

Crush (Liters)
635,000

Acreage Under Vine (Acres)
Key Varieties
Cabernet Sauvignon 93K -- 14.6%, Chardonnay 92K -- 14.5%, Pinot Noir 48K -- 7.6%, Zinfandel 40K -- 6.3%, Merlot 37K -- 5.8% by acres. Top 5-6 varieties (by plantings) and percentages noted
Key Soil Types
2,800 soil types: Sand, Clay, Loam, Granite, Volcanic ash, Seabed soil, River-run gravel.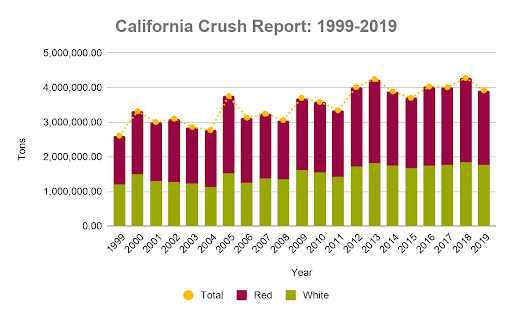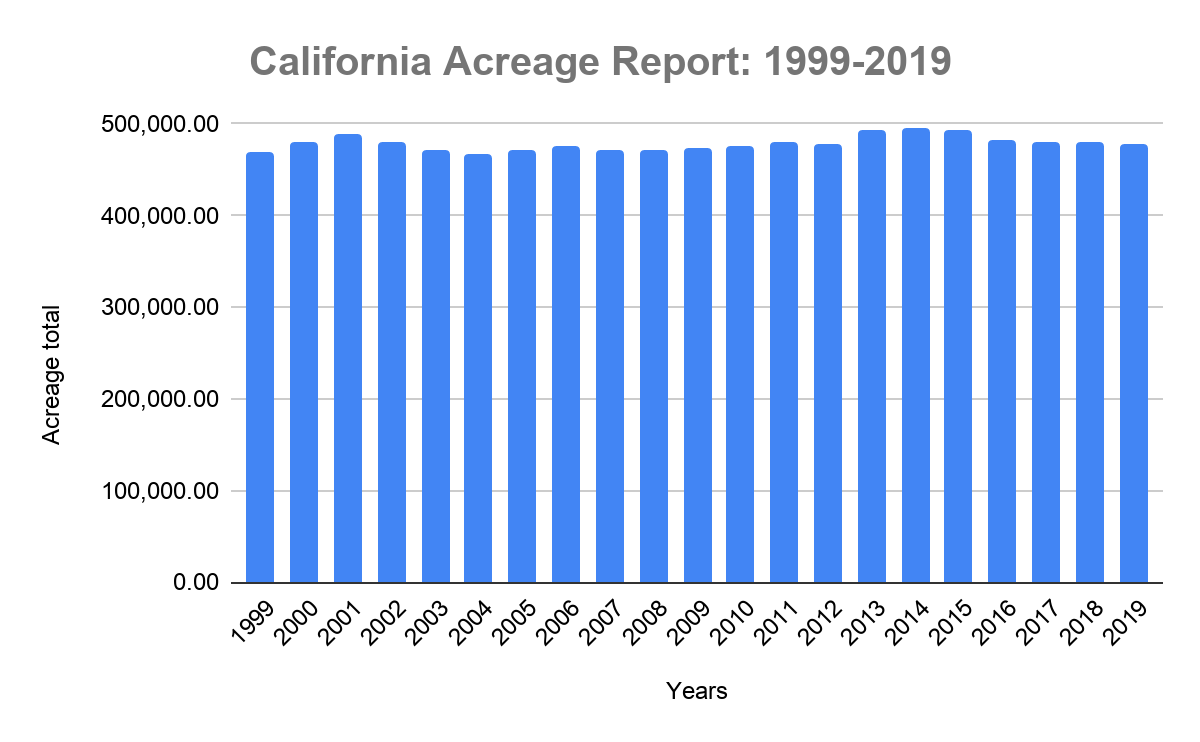 Overview
When it comes to wine, California is truly the "Golden State." Three out of every five bottles, more than 81% of all U.S. wine, is made in California. In fact, the state is the world's fourth leading wine producer. Climate and geography have a lot to do with California's leadership in the U.S. wine industry. Over 800 miles of coastline contributes to a broad range of microclimates. From cool coastal areas in the northern part of the state where top quality Chardonnay and Pinot noir are grown, to the large warm Inland Valleys, where a majority of the state's wine is made, much of California offers optimal growing conditions for fine winegrapes.
There are over 635,000 acres of vineyards statewide in 49 of the 58 counties. Even though varieties such as Chardonnay, Pinot noir, and Cabernet Sauvignon are widely planted and have become consumer favorites, there are over 110 grapes cultivated and the list is growing all the time. California, an appellation in itself along with county names, is also home to 147 federally approved American Viticultural Areas—more than any other state. They range in size from tiny Cole Ranch in Mendocino County, the smallest AVA in the U.S. at just 150 acres (61 ha), to the regional Central Coast AVA with over 6.7 million acres (2.7 million ha) planted across 10 different counties.
There are over 5,900 growers and 4,200 bonded wineries, ranging from small family-owned businesses that make less than a thousand cases of wine annually to large multi-producer wine groups. In 2019 they collectively harvested some 3.92 million tons of grapes making 242 million cases of wine worth $43.6 billion in retail value—or approximately 60% share of the U.S. market by volume. The state also accounts for 95% of all U.S. wine exports, with 41 million cases shipped to 142 countries and accounting for $1.36 billion in revenue.
The California wine industry's annual economic impact is formidable, adding over $57.6 billion to the state's economy and over $114 billion to the national economy, with $15.2 billion paid in state and federal taxes. California wine generates 786,000 wine industry jobs nationwide, of which 325,000 are in California. The wine industry is also a boon for California's tourist industry with over the 23.6 million tourists visiting the state's wine regions every year adding $7.2 billion to the economy.
The California wine industry also leads the way in sustainability, taking a proactive approach with practices that protect soil, water, and air, ultimately leading to better quality grapes and wines. In particular, the California Sustainable Winegrowing Alliance (CSWA) was created by the Wine Institute and the California Association of Winegrape Growers to promote the benefits of sustainable winegrowing practices and help wineries implement practices of the Sustainable Winegrowing Program. Today over 80% of the state's wine production is made in a Certified California Sustainable Winery.