By the numbers
Year end 2020
16

AVAs

250+

Physical Wineries

7.4%

Total Plantings

34,685

Acreage Under Vine (Acres)

133,280

Crush (Tons)
14,037

Acreage Under Vine (Hectares)

75,569,760

Crush (Liters)
Key Varieties
Chardonnay (7%), Cabernet Sauvignon (47%), Merlot (8%), Pinot Noir (5%), Syrah (6%), Zinfandel (5%)
Climate
Warm-summer Mediterranean, Winker Regions I-IV
Key Soil Types
Calcareous (shale, sandstone/mudstone, limestone); Siliceous (sandstone, silt, clay, other sedimentary soils); Clay; Sandy Loam/Sandy Clay Loam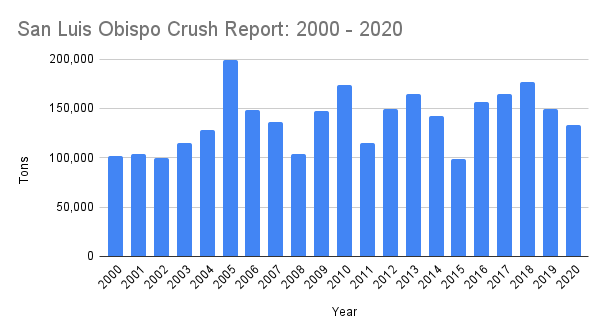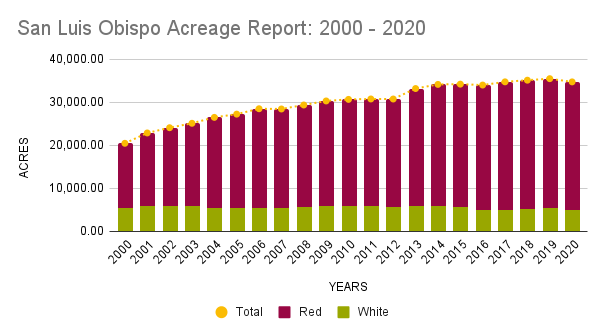 Overview
San Luis Obispo County, often referred to as SLO, pronounced "slow," is on California's central coast. Roughly midway between San Francisco and Los Angeles, it borders Monterey County on the north and Santa Barbara County to the south. It's the sixteenth largest county in California at 5,309² km (3,299 square miles). That's more than four times the size of Napa County.
Despite its size, San Luis Obispo County is not very populous. With just 282,000 people, it ranks 23rd in the state. Its largest towns are San Luis Obispo, Paso Robles, and Atascadero.
Agriculture is the third largest driver of San Luis Obispo County's economy. Education is the biggest economic factor, led by the California Polytechnic State University (Cal Poly) in San Luis Obispo. Tourism comes in second.
Strawberries and wine grapes are the county's two most important crops by far, accounting for 34% and 26% of total crop value respectively. Avocados and cattle are next, but neither represents more than 6% of total crop value.

San Luis Obispo County is one of California's most important areas for wine grape production, ranking sixth statewide for productive vine acres, behind San Joaquin, Sonoma, Monterey, Napa, and Fresno Counties. Within the county, Paso Robles is the largest AVA in terms of physical size, grape and wine production, and wine value. Paso Robles accounts for 87% of the county's wine industry output and economic impact.
There are currently 15 other AVAs in the county, eleven of which are nested within the Paso Robles AVA. Immediately west of the Paso Robles AVA is the York Mountain AVA, a small but historic region. To the south are Edna Valley and Arroyo Grande, both of which feature climates cooled by the Pacific Ocean. Still further south is the Santa Maria Valley AVA, most of which actually lies in Santa Barbara County. Another AVA, San Luis Obispo Coast, is pending and could be approved anytime now.
Due to its climate, San Luis Obispo County is a versatile winegrowing region. Proximity to the Pacific Ocean provides a Mediterranean climate, with long, sunny, rain-free growing seasons. Disease pressure is low. Vineyards closest to the ocean, or at altitude, are cool enough for excellent Chardonnay, Pinot Noir, and even crisp sparkling wines. Vineyards furthest from the ocean or thoroughly isolated by mountains are quite warm and easily ripen even the most robust red varieties.