By the numbers
YEAR END 2020
7

AVAs

275+

Wineries

3.3%

Total Plantings

15,452

Acreage Under Vine (Acres)

42,814

Crush (Tons)

24,275,538

Crush (Liters)
6,253

Acreage Under Vine (Hectares)
Key Varieties
Chardonnay, Pinot Noir, Syrah, Sauvignon Blanc, Cabernet Sauvignon
Climate
Cool Mediterranean climate (Köppen climate classification: Csb)
Key Soil Types
Sandy loam and silt. Colluvial, cobbles, and gravelly loam. Elder series alluvium. Marine shale (Sta. Rita Hills). Diatomaceous earth (Sta. Rita Hills).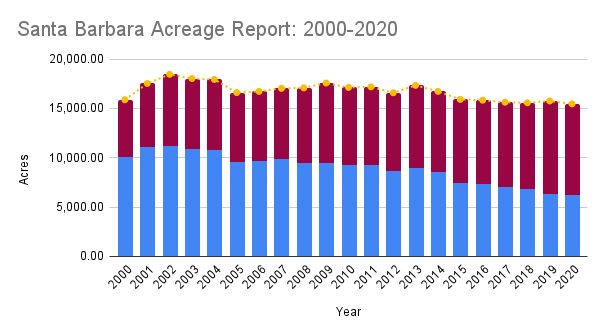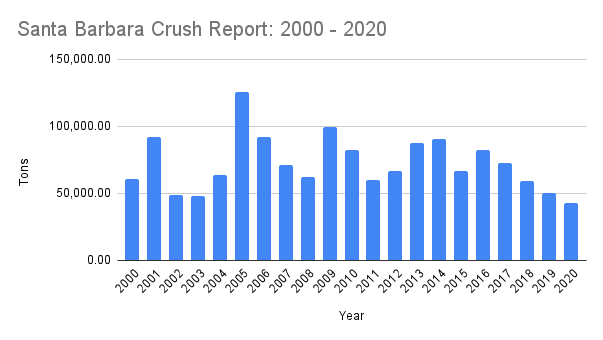 Overview
Santa Barbara County is the southernmost county of the 250-mile-long (402 km) Central Coast AVA. Its unique topography has produced seven AVAs: Santa Maria Valley, Santa Ynez Valley, Sta. Rita Hills, Ballard Canyon, Los Olivos District, Happy Canyon of Santa Barbara, and Alisos Canyon.

The region's climate is dramatically influenced by a combination of rare geography, the configuration of the coastline that forms the county's southern border, and the dynamic, cooling effect of the Pacific Ocean. The key geographic factor that influences winegrowing are two parallel, transverse mountain ranges: the San Rafael Range which runs east to west, bisecting the county, and the Santa Ynez Mountains on the county's southern border. Together, they create a funnel that pulls air hyper-cooled by the Pacific Ocean inland, resulting in one of California's coolest grape-growing regions, with average temperatures that peak between 70°–80°F (20°–27°C) and drop to below 50°F (10°C) at night.
While the western half of the county is ideal for cool-climate wine-growing, producing world-class Chardonnay, Pinot Noir and Syrah, warmer sites in the region's eastern half ripen Bordeaux, Rhone and Iberian varieties, and all benefit from an extended growing season that promotes slow ripening.
Sedimentary and alluvial soils predominate, with pockets of calcareous limestone, diatomaceous earth and chert found closer to the coast, and silt, shale, gravel and clay loams in the foothills, resulting in a broad range of wine styles reflective of their terroirs. Altitudes suited for wine-growing run from 200 feet (61 m) in the valleys to 3,400 feet (1,036 m) in the hillside vineyards.
Wine is the county's most significant finished agricultural product, and Pinot Noir dominates the red varieties that are planted followed distantly by Syrah, Cabernet Sauvignon and Grenache. Chardonnay, Sauvignon Blanc and Pinot Gris account for the top white varieties, although 70 varieties are on record.
The region's first AVA - Santa Maria Valley - became California's second after Napa Valley. It's home to several of the oldest vineyard sites in the country and boasts a particularly long growing season (125 days) due to cool average temperatures that hover around 64°F (17°C).

Spanning over 30 miles (48 km) east to west, Santa Ynez Valley is the largest of the seven AVAs with 77,000 acres (31,161 ha) under vine. Moving west to east through the valley, the climate shifts from cold and foggy to warm and dry and is planted accordingly. Occupying the western boundary of the Santa Ynez AVA is the sub-AVA of Sta. Rita Hills. Cloaked in fog until mid-morning, the calcareous soils of this hilly AVA are planted to some of the region's youngest Pinot Noir and Syrah vineyards, now rapidly making a name for themselves.