By the numbers
YEAR END 2019
16

AVAs

475

Physical Wineries

9.5%

Total Plantings

45,342

Acreage Under Vine (Acres)

159,721

Crush (Tons)
18,349

Acreage Under Vine (Hectares)

90,691,463

Crush (Liters)
Key Varieties
Cabernet Sauvignon (51%), Chardonnay (13%), Merlot (9%), Pinot Noir (6%), Sauvignon Blanc (6%), and Zinfandel (3%)
Climate
Warm-summer Mediterranean (Csb)
Key Soil Types
Volcanic, Maritime/Sedimentary, Alluvial, Colluvial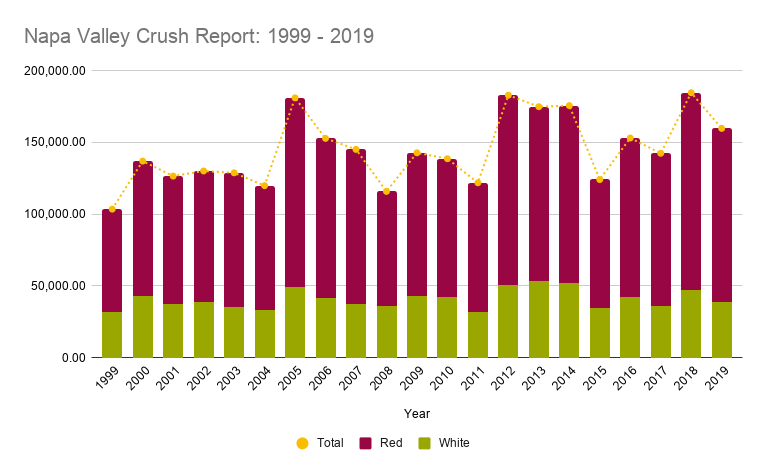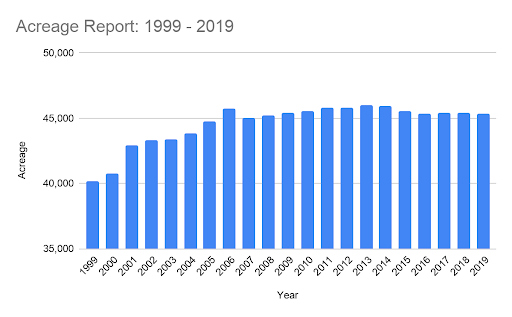 Overview
Napa (ˈna-pə) Valley is one of the world's most important fine wine regions. However, at only 45,342 acres (18,349 hectares), it's a relatively small area, less than 15% the size of Bordeaux at 296,000 acres (119,787 hectares). Napa Valley also has a very narrowly defined topography. The valley itself is just 30 miles (48 km) long and 5 miles (8 km) across at its widest point.
Napa Valley produces less than 0.4% of the world's wine and accounts for just 4% of California's total annual wine production. Average high prices of Napa Valley wines, however, account for over 25% of the state's total wine revenues. As of 2019, the Napa Valley wine industry and related businesses added more than US$9.4 billion to the local economy, and nearly US$34 billion in the U.S. Wine in Napa Valley was also responsible for 44,000 jobs locally and nearly 190,000 nationwide.
Napa Valley was granted AVA, or American Viticultural Area, status in 1981 (it is also part of the North Coast AVA). Since that time, 16 nested sub-AVA's have been granted. These AVA's are often subdivided into appellations located on the valley floor, hillside, and outside the valley proper. This is because differences in wine character caused by location, microclimate, and terroir can be dramatic.
Valley Floor AVA's: Los Carneros (shared with Sonoma County), Coombsville, Stags Leap District, Oak Knoll District of Napa Valley, Yountville, Oakville, Rutherford, St. Helena, and Calistoga
Hillside AVA's: Atlas Peak, Howell Mountain, Mt. Veeder, Spring Mountain District, Diamond Mountain District, Wild Horse Valley, and Chiles Valley
Napa Valley has long provided environmental leadership in the industry. The Napa Valley Agricultural Preserve, established in 1968, was the first of its kind in the country to set land aside specifically for agriculture. Today, nearly 90% of Napa County is under permanent or high levels of protection from development. Napa Valley is also home to the largest number by far (40%) of certified sustainable wineries in California.
As of 2019, the Napa Valley Vintners Association reported that there are approximately 700 grape growers in Napa County. Approximately 475 physical wineries in Napa County produce more than 1,000 different wine brands. Some 95% of Napa Valley wineries are family-owned. With few exceptions, most are smaller in scale. Over 70% produce less than 10,000 cases a year. Some produce less than a thousand cases annually.