By the numbers
Year End 2019
7

AVAs

0.3%

Total Plantings

997

Acreage Under Vine (Hectares)

39

Crush (Tons)
2,464

Acreage Under Vine (Acres)
Key Varieties
Pinot Noir 27%, Chardonnay 23%, Cabernet Sauvignon 16%, Merlot 8%, White Riesling 4%, Sauvignon Blanc 3%. Top 5-6 varieties (by plantings) and percentages noted
Climate
Warm-summer Mediterranean, Winkler-Amerine Zones 1-3
Key Soil Types
Limestone, decomposed granite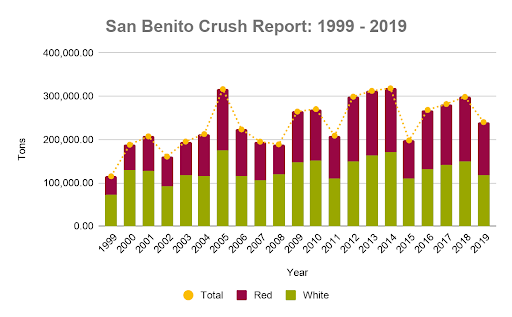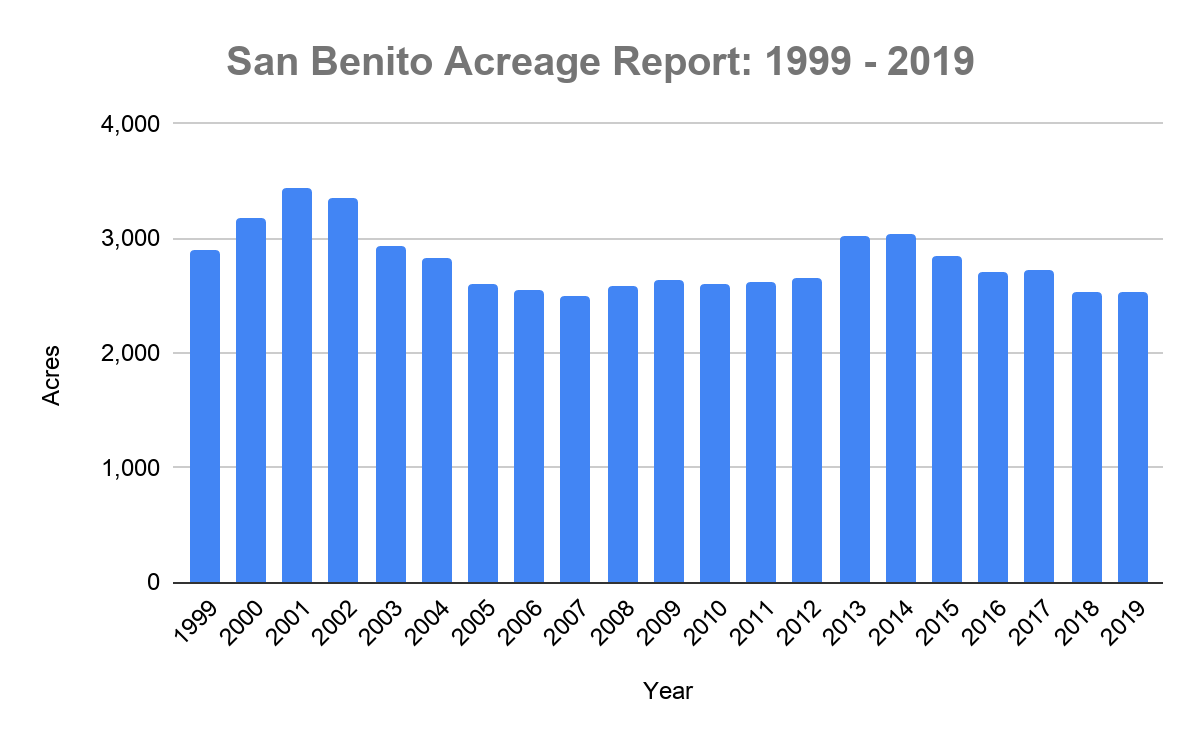 Overview
San Benito is the only landlocked county within the Central Coast AVA. The county was created in 1874 by moving Monterey County's eastern boundary toward the coast to follow the Gavilan Mountains ridgeline. Citizens in the San Benito area chafed at being governed by Monterey and lobbied tirelessly for a vote on the contentious issue.
The physical barrier posed by the mountains, the distance between San Benito and the county seat of Monterey, compounded by general challenges involved in travel in those days, made it difficult for the inhabitants of San Benito to represent themselves in the local government. Economic differences also existed: While San Benito and Monterey each derived income from mining, ranching, and farming, coastal Monterey was chiefly invested in fishing and whaling.
To this day, the two counties still have a very different vibe. And, from a viticultural standpoint they are also quite different. Monterey County, right on the ocean, is cooler and, in some areas, quite foggy. Because near-to-the-ocean vineyards don't get very hot during the day, they don't experience a dramatic diurnal shift. Vineyard locations are chosen carefully, to avoid soils that are too fertile or poorly drained.
San Benito County is a striking contrast. Both beyond and above the fog line, it has long, sunny days during the growing season which drive afternoon temperatures up much higher than in Monterey County. But late-afternoon ocean winds and, in some AVAs, altitude bring temperatures down precipitously. And, in the main vineyard areas of San Benito County, excess soil fertility is hardly a problem.
Compared to Monterey County, which is highly traveled due to Highways 1 and 101 which pass through it, San Benito County is relatively remote and doesn't see many visitors. Attractions are chiefly historic and natural: Mission San Juan Bautista and Pinnacles National Park. Its most visited winery, Chalone, actually sits on the county line and is on the path to Pinnacles, so visitors are able to access it easily after a long day of hiking.