By the numbers
Year End 2019
12

AVAs

108

Wineries

1%

Total Plantings

7,087

Acreage Under Vine (Hectares)

38,650,379

Crush (Liters)
17,512

Acreage Under Vine (Acres)
Key Varieties
Chardonnay 28%, Pinot Noir 16%, Cabernet Sauvignon 15%, Zinfandel 11%, Merlot 9%, Sauvignon Blanc 4%
Climate
Warm-summer Mediterranean (Csb)
Key Soil Types
Loams over sandstone Gravelly loams with clay Weathered bedrock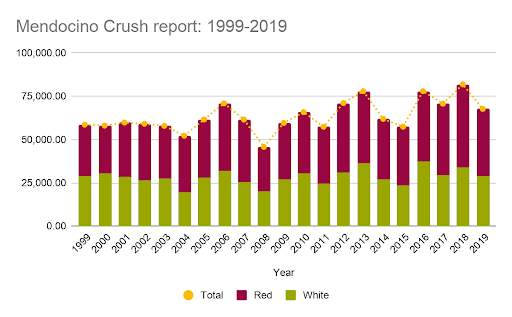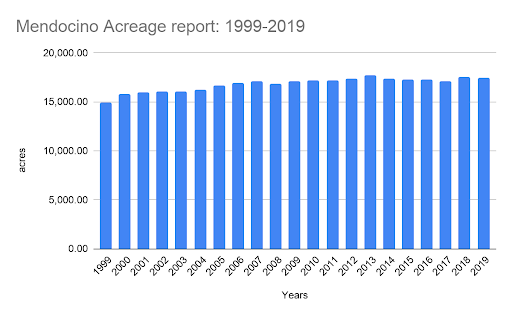 Overview
Mendocino County lies in the northwest corner of the North Coast AVA, directly north of Sonoma County and west of Lake County. The Pacific coast forms the county's western flank.
Mendocino is a large county, more than 4.5 times bigger than Napa County. However, much of Mendocino County is rugged, mountainous, thickly forested, remote, and unpopulated. As a result, Mendocino County has only one-third of Napa's vine acreage. The total population of Mendocino county is just 87,000 -- less than the capacity of the famous Rose Bowl Stadium in Pasadena, CA.
Sustainability and organic viticulture are of huge importance in Mendocino County. Twenty-five percent of the county's production is certified organic. So, despite the relatively small acreage planted to vines, Mendocino County accounts for one-third of all certified organic vineyards in California. It also has 10 times more Demeter-certified biodynamic acres than any other grape-growing region in the state.
The county boasts a number of other sustainability distinctions. Frey Vineyards was the first certified-organic winery in the United States, and later the first to be certified biodynamic. Bonterra is the country's largest producer of organic wine. Parducci Wine Cellars was the nation's first winery to be certified carbon neutral. Philo Ridge was the first winery to go off-the-grid with 100% solar power, while Fetzer is said to have the largest array of solar panels of any winery in the world.
There are two distinct growing zones in Mendocino County. The western corridor is predominantly a narrow valley which runs southeast from the ocean. Vineyards tend to be small, their size limited by the terrain. The eastern corridor, which straddles state highway 101, is flatter, and has more room for large contiguous vineyards. It's also substantially warmer, being isolated from the ocean by California's massive coastal mountain range.
The contrasting climates of the two zones allow Mendocino County to grow a wide range of grape varieties, from Riesling to Touriga Nacional. Forty-seven varieties are represented by at least one acre of vines. Many others grow in smaller amounts. In general, the west side specializes in varieties that thrive in cool-to-moderate climates. The east is known for grapes that enjoy warm to hot weather.
There are 12 AVAs in Mendocino County. Three are in the west, five in the east, and one, the Mendocino AVA, unites most of those. Another AVA is in the southeast corner, overlapping Sonoma County. The final two AVAs, both very small, are far north. The county holds 570 vineyards, with a median size of just 14 acres (6 hectares).
From the standpoints of market mindshare and reputation, Anderson Valley is Mendocino County's most important AVA. Anderson Valley sits in the heart of the western winegrowing corridor, where cool wind and fog from the ocean create a climate ideal for Pinot Noir, aromatic white varieties, and traditional method sparkling wine.