By the numbers
9

AVAs

82

Physical Wineries

9.8%

Total Plantings

45,915

Acreage Under Vine (Acres)

94,300

Crush (Tons)
18,581

Acreage Under Vine (Hectares)

data

Crush (Liters)
Key Varieties
Chardonnay, Pinot Noir, Cabernet Sauvignon and Merlot
Climate
Warm Summer Mediterranean Winkler Index Regions I-III
Key Soil Types
Generally marine sedimentary in origin, the textures range from clay to accumulations of potato-sized stones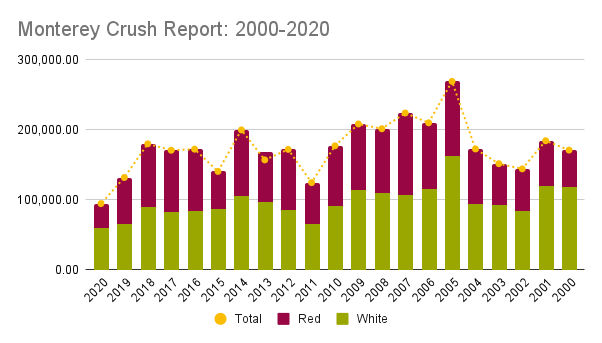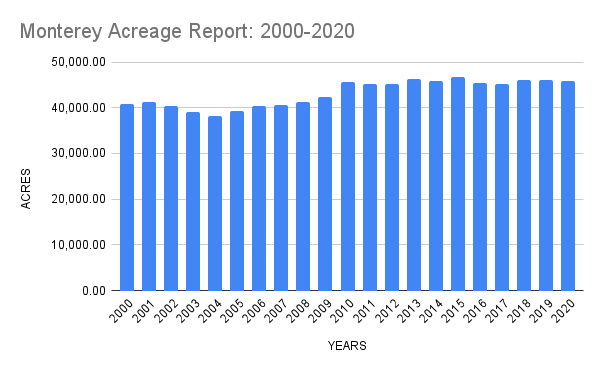 Overview
Though not a region top of mind for most wine consumers, Monterey County is one of the most significant producers of high-quality wine and wine grapes in the United States. The county accounts for nearly 10% of all vineyard acreage in California. No county has more territory dedicated to Chardonnay, the United States' favorite white wine grape. And Sonoma Count barely edges out Monterey County for the most acres of Pinot Noir.
The northwest corner of Monterey County borders Monterey Bay. It's so deep that some in the county refer to it as "the Blue Grand Canyon." The water is extremely cold. Winds whipping inland from across the bay cool northern vineyards dramatically. Of course, the further the wind travels from the bay, the less cooling it imparts. Thus, there's diversity in average daily temperature which allows for a range of grape varieties to thrive.
The Monterey County AVA wine aficionados know best is the Santa Lucia Highlands. It lies on the eastern slope of the Santa Lucia Mountains, which shield it from afternoon sun. And, with its northernmost extent only a dozen miles from Monterey Bay, the AVA benefits considerably from the water's moderating influence. Chardonnay, Pinot Noir, and Syrah from this region are world-class.
There are 82 bonded wineries in the county, some quite large. Nonetheless, roughly half the grapes grown by the county's 349 vineyards head to wineries in other counties. Some go to high-volume producers, others to wineries that own their own vineyards in Monterey County but are headquartered elsewhere, and still others into high-end, vineyard- designate wines from boutique wineries.
Visitors to Monterey County enjoy its tasting rooms. But the county boasts many other attractions. One is Carmel-by-the-Sea, an adorable hamlet overlooking the bay. It's known for boutique shopping, fine restaurants, and for once having Clint Eastwood as its mayor. Immediately to the north is Pebble Beach, one of the world's most celebrated golf resorts.
Further north in the town of Monterey is a wharf area made famous by John Steinbeck's novel, Cannery Row. The area also hosts Monterey Bay Aquarium, which draws tourists and marine biologists from far and wide. In the opposite direction, between Carmel and San Luis Obispo County, lies Big Sur and its spectacular coastal scenery.
Monterey is also richly historic. Among the attractions are the second, third, and thirteenth California missions built by the Spaniards. The first of them, San Carlos Borromeo de Carmelo, was established in 1770. Other attractions include historic homes, the West Coast's oldest, continuously operated lighthouse, and California's first theater.
Finally, Monterey County is an extremely significant source of food for the United States. The Salinas Valley, which the Santa Lucia Highlands AVA overlooks, is known as "America's Salad Bowl," due to the volume of lettuce, tomatoes, strawberries, broccoli, cauliflower, spinach, artichokes, etc. it grows.