By the numbers
Nested in the Sierra Foothills AVA

AVAs

About 50

Physical Wineries

0.47%

Total Plantings

2,219

Acreage Under Vine (Acres)

6,235

Crush (Tons)
898

Acreage Under Vine (Hectares)

3,535,245

Crush (Liters)
Key Varieties
Zinfandel (26%), Cabernet Sauvignon (20%), Syrah (13%), Barbera (10%), Merlot (9%), Petite Sirah (8%)
Climate
Mediterranean, but cooled by elevation and mountain breezes rather than the fog and marine influences found in regions closer to the Pacific Ocean
Key Soil Types
Fine-grained volcanic rock, decomposed granite, and fine-grained shale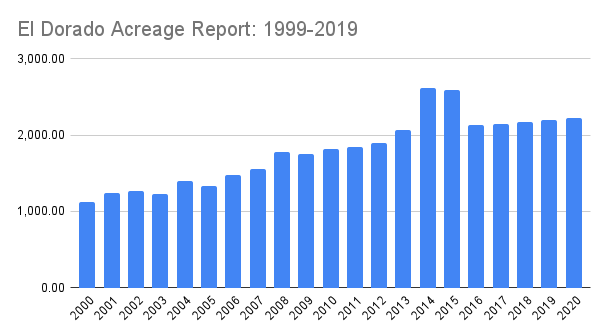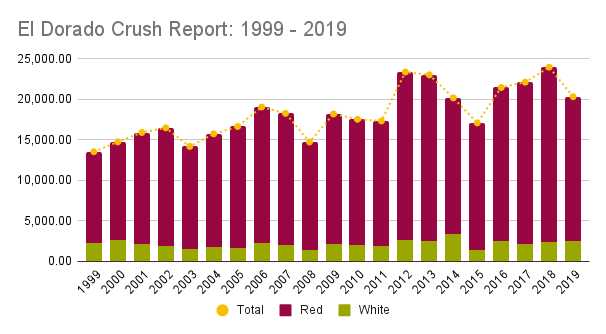 Overview
The El Dorado AVA (American Viticultural Area), designated in 1983, lies east of Sacramento, California's state capital, in the foothills of the Sierra Nevada Mountain Range. In fact, the Sierra Foothills itself is an AVA—one of the largest in California—but it is the smaller regions of El Dorado, Amador, and Calaveras that are the most significant for quality wines. Winemaking in all three is directly tied to the state's legendary Gold Rush in the mid-1800s, but it was El Dorado that became ground zero for both an instant population explosion and winemaking, when in 1848 James Marshall famously discovered gold in what would become El Dorado County, at Sutter's Mill on the South Fork of the American River. Prospectors who flocked to the area became a built-in consumer base for wine. Many came from European winegrowing regions and recognized the area's potential to replicate the vineyard and winery operations they knew so well from home, with some opting to abandon gold-panning for vineyard work and winemaking instead.
Located in the rising land stretching west to east between California's Central Valley and the peaks of the Sierras, El Dorado is uniquely defined as the land sitting at 1,200 to 3,500 feet of elevation (366 to 1067 meters). Its vineyards, then, are planted on steep slopes, with a vast number of varying aspects and microclimates, giving vintners the option of successfully growing myriad grape varieties, from Gewürztraminer to Petite Sirah. Almost 50 varieties are currently planted throughout the region, but emerging among its highest quality wines are Italian varieties, especially Barbera, and Rhône natives (championed by noted viticulturist Ron Mansfield), with Syrah as the flagship, along with the grape most closely identified as California's own: Zinfandel. Cabernet Sauvignon is also coming on strong. On the white spectrum, Sauvignon Blanc is well suited to the topography, but Viognier, Roussanne, and Marsanne are doing well too.
El Dorado shares the Mediterranean climate that much of the state enjoys, but as it is much farther inland than prominent regions like Sonoma County and Napa Valley, it is moderated by elevation and mountain breezes rather than the fog and marine currents that influence those more coastal AVAs. During the growing season, El Dorado's high-elevation, hillside vineyards are exposed to intense sunlight during warm days, cooling down at night. This facilitates an extended growing season and allows fruit to retain its acidity, resulting in a lovely potential balance between flavor development and freshness.

It's interesting to note that even though El Dorado is much farther inland than the trail of missions built by the early Spanish missionaries, so closely tied to the beginnings of the wine industry in California, it was also touched by that history. One of the key routes prospectors coming in by way of San Francisco took up to the Sierra Foothills ran around the bottom of San Francisco Bay, by Mission San Jose. More than a few vine cuttings were transported from the mission's vineyards for new plantings in El Dorado, destined to quench the thirst of Gold Rush miners.