By the numbers
1

AVAs

37

Physical Wineries

0.15%

Total Plantings

725

Acreage Under Vine (Acres)

1,772

Crush (Tons)
294

Acreage Under Vine (Hectares)

1,004,724

Crush (Liters)
Key Varieties
Cabernet Sauvignon (14%), Sauvignon Blanc (11%), Zinfandel (11%), Chardonnay (9.5%), Merlot (8.8%), Syrah (8.8%)
Climate
Hot and dry during the growing season, moderated by cool mountain breezes at night, flowing down from the Sierra Mountain Range
Key Soil Types
Schist, slate and phyllite, marble, metavolcanic, granite, volcanic (andesitic), and volcanic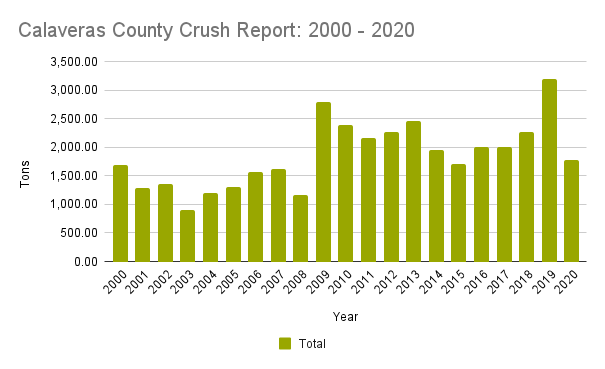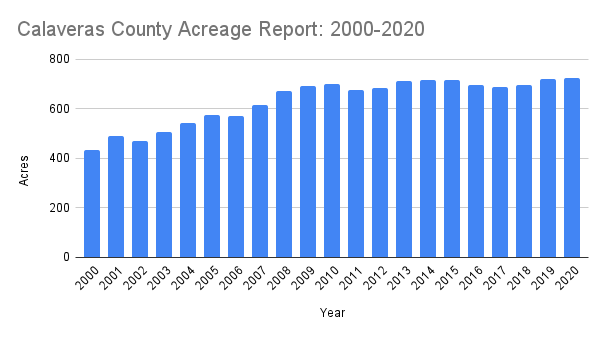 Overview
Calaveras County lies east of the San Joaquin Valley at the base of the Sierra Nevada mountain range. Nested within the enormous Sierra Foothills AVA, it shares much in common with neighboring subregions, including Gold Rush history, climate, soils, the benefits of varying elevations, aspects, and microclimates. With very warm days during the growing season, cooled at night by alpine air flowing down from the mountain peaks to the east, Calaveras has conditions conducive to growing Rhône, Italian, and Spanish varieties, like Syrah, Barbera, and Tempranillo, as well as the Zinfandel that has been revived in some of the state's oldest vineyards here. Cabernet Sauvignon is also one of the region's most important grapes, as it is the most consumed red wine throughout the state (and indeed in the country). While red wines dominate in Calaveras vineyards, Chardonnay (the state's most popular white), Sauvignon Blanc, and Viognier are widely planted here, and thrive, again because of the range of microclimates in vineyards located between 1,000 and 3,000 feet (305 to 914 meters) above sea level.
Mid-1800s gold mining in the region brought an audience for wine, and miners with expertise in growing and making it. So, as with the rest of the Sierra Foothills AVAs, the history of the Gold Rush (both boom and bust) is the history of winemaking here. Though many vineyards were eventually abandoned, few were ripped out. After the decimation of the industry, post-Gold Rush and later Prohibition, lasting through the middle of the 20th century, winemaking was rediscovered in a 1970s renaissance of sorts. What's believed to be the oldest Zinfandel vineyard in the state—the Grandpère Vineyard in Shenandoah Valley—was discovered and revived.
Many of today's top Calaveras producers can trace their training and experience to Barden Stevenot, who planted and began one of the most notable productions of the early modern era here. And many of those who went on to found their own wineries, as well as newer producers, have established tasting rooms in the quaint Gold Rush town of Murphys, which is one of the region's great wine-tourism draws today.