By the numbers
Year end 2020
1

AVA

13

Physical Wineries

0.014%

Total Plantings

63

Acreage Under Vine (Acres)

data

Crush (Tons)
25.5

Acreage Under Vine (Hectares)

data

Crush (Liters)
Key Varieties
Cabernet Sauvignon, Syrah, Pinot Noir
Climate
Inland Mediterranean, marked by warm days and cold, windy nights during the growing season
Key Soil Types
Decom Sierra-Auberry, Englebright-Rescue and Dobbins, all typical of soils that develop from granitic and igneous rocks. Soils are shallow to very deep, rocky, cobbly and rocky, and generally well-drained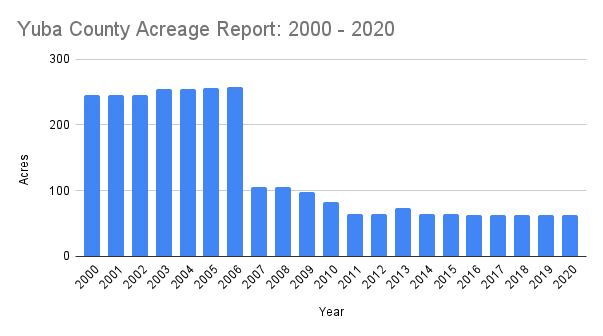 Overview
Yuba is a county within the larger Sierra Foothills of California, along the Feather River, at the northern reaches of the Sacramento Valley. The county sits on the western slopes of the Sierra Nevada. The Yuba River runs through it. Sacramento, the California state capital, lies 70 miles/113km south of here.
In addition to wine grapes, the region maintains an agricultural economy of rice, olives, fruit and cattle.
North Yuba is the official name of the American Viticultural Area, which was established in 1985, and is fairly small at 35 square miles/91 square km or 22,400 acres/9,065 hectares in all. North Yuba's soils are volcanic and granite-rich. The appellation includes the area from Oregon House, east of Rice Crossing Road, to Dobbins, just west of the Yuba River.
North Yuba's story is really the story of Renaissance Vineyard and Winery, once the area's largest producers, based in the town of Oregon House at high elevation.
Renaissance was founded by the Fellowship of Friends, a religious group that came to the area in search of seclusion in 1971. A substantial vineyard began to be planted in 1976 with cuttings from the Callaway Vineyards in Temecula.
Renaissance was vibrant and productive enough in 1985 to establish the North Yuba AVA and was at the time the only vineyard in the region with 365 acres/148 hectares of vines, a mix of mostly Bordeaux and Rhone varieties. As the Fellowship faded, the winery and vineyard operation faded until being officially shut down by the Fellowship in 2015. Only 33 acres/13 hectares of vines remain.
Other producers of note include Clos Saron, whose owner and winemaker, Israeli-born Gideon Beinstock, served as the Renaissance winemaker from 1993 until its demise. He and wife Saron Rice, both former Fellowship members, bought land and established Clos Saron in 1999; its most famous wine, Black Pearl, was made from Renaissance grapes.
Clos Saron started out with Cabernet Sauvignon but has made a name for itself over time with Pinot Noir, its site cooler and at a lower elevation than Renaissance, and the soils a mix of fractured granite and volcanic ash.
One-time Renaissance vineyard manager Grant Ramey has also established a winery of his own in North Yuba called Grant-Eddie Winery.
Today what remains of Renaissance is tended to by a group of small wineries who help farm it and use the grapes in their own wines. Frenchtown Farms and La Onda are among the producers to look for in addition to Clos Saron. The founders of Frenchtown Farms, Aaron and Cara Mockrish, have access to much of Renaissance Vineyards, where they have been growing grapes for their own wines since 2016.
The area is popular for fly fishing, river rafting, camping and mountain biking, with the North Fork of the Yuba River a popular destination in addition to the nearby Plumas National Forest.