By the numbers
Year End 2019
18

AVAs

425+

Wineries

6%

Total Plantings

23,585

Acreage Under Vine (Hectares)

275,977

Crush (Tons)

1,044,687

Crush (Liters)
58,280

Acreage Under Vine (Acres)
Key Varieties
Chardonnay (27%), Pinot Noir (23%), Cabernet Sauvignon (22%), Zinfandel (8%), and Merlot (7%)
Climate
Dry, Mediterranean with coastal influence
Key Soil Types
Eleven formation types; 31 different soil series including alluvial, volcanic, Goldridge, Franciscan and clay loam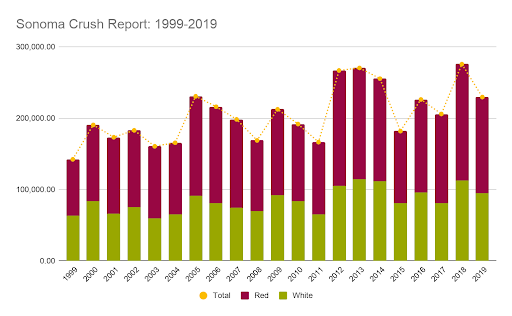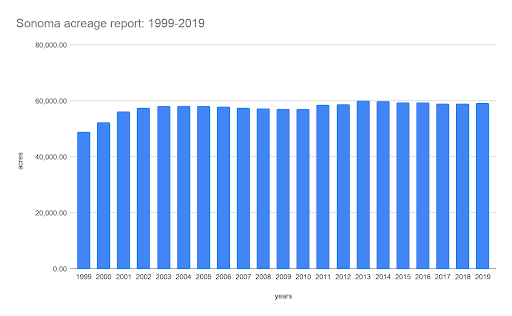 Overview
One of America's best regions for fine wine, Sonoma County, is among the most diverse, dynamic and resilient wine regions in the United States, a place of historic importance, at the forefront of climate change and a region that has taken a visionary leadership role in sustainability issues.
Located about an hour's drive north of San Francisco, and to the west of Napa Valley, Sonoma County spans more than one million acres/414,398 hectares in all, with 59,000 acres/23,876 hectares planted to winegrapes -- a mere 6% of its total area.
The Pacific Ocean borders 76 miles/122 km to the west and has a mighty maritime cooling impact on the region. Sonoma County's diversity in climate – largely dry Mediterranean -- also applies to its topography, which encompasses mountains, valleys, benchlands and coastal outcrops, with its acreage a study in contrasts and variability, ranging from sea level to 2,600 feet/792 meters above.
Sonoma County represents an ideal climate for winegrapes, in addition to other types of agriculture from dairy to apples. Average temperatures during the May through September growing season range from the 70s to low 90s Fahrenheit (21° to 32° Celsius) during the day, with cool nighttime temperatures in the low 40s and 50s Fahrenheit (4° to 10° Celsius), allowing for enviable acid retention in the wines. As the grapes grow, morning coastal fog is common; frost and rainfall are rare.
Fog is among Sonoma County's most defining features. The Russian River draws fog from the Pacific Ocean inland toward Healdsburg and the warmer Alexander Valley, impacting the 15,000 acres/6,070 hectares of vineyard within the Russian River Valley itself. Cool air also travels through the Petaluma Gap and San Pablo Bay to the south.
While only a small percentage of Sonoma County is devoted to winegrapes, the wine industry looms large, with winegrapes accounting for 71% of total crop value, and the wine industry 40% of total GDP, amounting to some $3.2 billion in wages paid per year. The value of Sonoma County wines in retail across America is worth $8 billion, while wine tourism brings in $1.2 billion annually. In addition, one in four jobs are in the wine industry, with some 54,000 people working full-time in wine, according to the Sonoma County Vintners trade association.
More than 425 wineries coexist in this varied environment, from multinational corporations to tiny multigenerational estates; of the 1,800 grape growers in Sonoma, 85% are family-owned and -operated, and 80% of the county's vineyards consist of less than 100 acres/40 hectares, with 40% less than 20 acres/8 hectares, according to the Sonoma County Winegrowers.
Sonoma grows a wide variety of winegrapes, including the largest amount of Pinot Noir in California and the second-highest amount of Chardonnay. Cabernet Sauvignon, Zinfandel and Merlot are also well-represented; in all, 66 different varieties are grown.
The county's first AVA was Sonoma Valley, in 1981, acknowledged the same year as Napa Valley. In 1983 it was joined by Russian River Valley, Chalk Hill, Knights Valley, Green Valley, Dry Creek Valley and Los Carneros (which straddles into Napa).
Sonoma County's most recent American Viticultural Area (AVA), the Petaluma Gap was named in 2017. The county's eighteenth designated AVA, the Petaluma Gap borders the Sonoma Coast, Russian River Valley and Los Carneros AVAs, extending slightly into neighboring Marin County.
Other Sonoma County AVAs, roughly north to south, include Alexander Valley, Northern Sonoma, Pine Mountain-Cloverdale Peak (which crosses into Mendocino County), Rockpile, Fort Ross-Seaview, Sonoma Coast, Fountaingrove District, Bennett Valley, Sonoma Mountain and Moon Mountain District.
The increasing effects and threats of climate change inspired the Sonoma County Winegrowers in 2014 to make it a definitive goal for the region to achieve 100% sustainability, with a focus not only on environmental stewardship but social responsibility and economic viability.
In September 2019, Sonoma County Winegrowers announced that 99% of Sonoma County vineyards had been certified sustainable, representing some 60,000 total acres/24,281 hectares of winegrapes.