By the numbers
12

AVAs

data

Physical Wineries

10%

Total Plantings

69,823

Acreage Under Vine (Acres)

608,000

Crush (Tons)
28,256

Acreage Under Vine (Hectares)

34,4736,000

Crush (Liters)
Key Varieties
Chardonnay 14%, Zinfandel 14%, Cabernet Sauvignon 11%, French Colombard 10%, Merlot 8%, Rubired 6%, Pinot Gris 5%
Climate
Hot-summer Mediterranean in the north; Desert in the south
Key Soil Types
Tokay Sandy Loam - Mokelumne River AVA; Redding Clay - Borden Ranch, Clements Hills; San Joaquin Series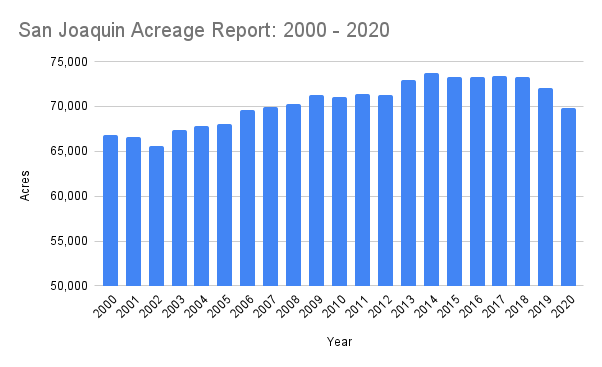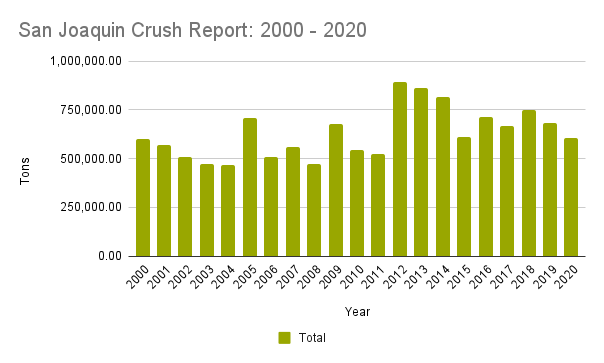 Overview
The massive San Joaquin Valley accounts for the southern half of California's great Inland Valley. It is bounded on the east by the Sierra Nevada mountains, the Tehachapi Mountains to the south, and by coastal mountain ranges on the west. The northern end abuts the Sacramento Valley.
The San Joaquin Valley covers almost the same amount of land surface as its northern neighbor, but the two valleys differ in significant ways. Most importantly, the southerly location of the San Joaquin Valley and its greater isolation from the Pacific Ocean and San Francisco Bay complex contribute to a hotter, drier climate.
Unlike the Sacramento Valley which is dominated by one river that runs throughout, the San Joaquin Valley can be seen as having a northern and southern half. The north features the San Joaquin River which heads west, downhill from the Sierra Nevada Range, then turns north on the valley floor to reach the Sacramento-San Joaquin River Delta. The southern portion features two different rivers, Kings and Kern, but they don't leave the valley. Their waters are managed in order to provide water for the valley's agriculture and southern towns.