By the numbers
Year end 2020
Part of the larger Sierra Foothills AVA

AVAs

About a dozen

Physical Wineries

0.13%

Total Plantings

632

Acreage Under Vine (Acres)

1,570

Crush (Tons)
255.76

Acreage Under Vine (Hectares)

890,190

Crush (Liters)
Key Varieties
Cabernet Sauvignon, Zinfandel, Petite Sirah
Climate
Dry summers and relatively warm winters
Key Soil Types
Metamorphic, granitic and volcanic parent material, considered residual soils, with a large diversity of specific soil types.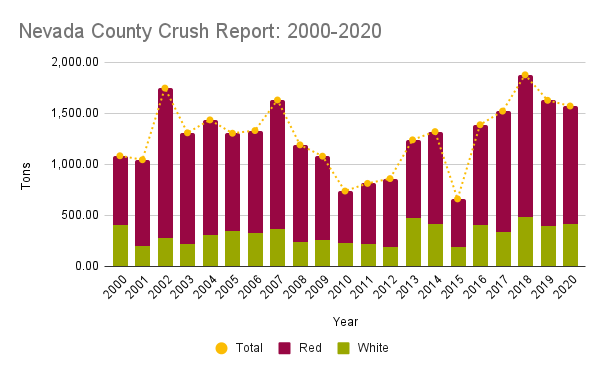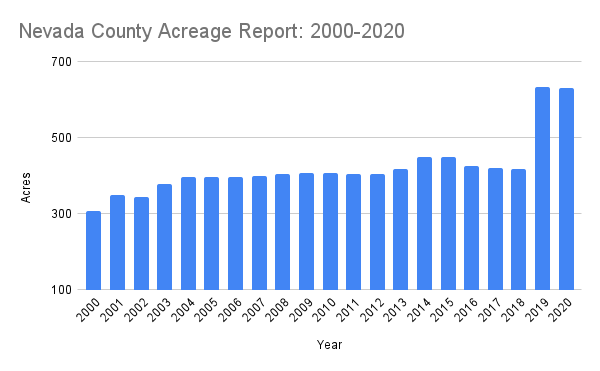 Overview
Nevada County lies within the larger Sierra Foothills AVA, created in 1987 to encompass portions of Nevada, Placer, El Dorado, Amador, Calaveras, Tuolumne and Mariposa counties in elevations ranging between 1,000 and 4,000 feet (305 and 1,219 m. Nevada County's north county line is the northern boundary of the appellation. Nevada means "snow-covered or snowfall" in Spanish.
Towns of note include Nevada City, Grass Valley and Truckee, where Highway 49 intersects with Highway 80 and connects eventually to Lake Tahoe. In fact, much of Nevada County includes the Tahoe National Forest, while the county's easternmost edge borders the neighboring state of Nevada.
Viticulture has been an important part of the region's history, dating back to the Gold Rush of 1849, with grape-growing and winemaking really taking off during the 1870s and 1880s. Mine closures, phylloxera and Prohibition led to a decline in the area's population as well as viticulture over the next several decades.
In the 1960s and 1970s the wine industry began to grow once again, joining more established agricultural pursuits such as apples, pears, cattle and Christmas trees. At the time of the AVA's petition in 1985 (which would take two more years to become official), Nevada County was documented as having 168 acres (68 ha) of grapes and 17 vineyards, while the larger Sierra Foothills accounted for 2,574 acres (1,042 ha) devoted to viticulture.
The main varieties of grapes grown in the Foothills at the time of the AVA petition included Barbera, Charbono, Chardonnay, Chenin Blanc, Cabernet Sauvignon, French Colombard, Merlot, Petite Sirah, Riesling, Ruby Cabernet, Sauvignon Blanc and Zinfandel. Many of those varieties remain important to this day, especially Zinfandel.
Nevada City Winery remains the oldest operating winery in the county, dating back to 1980. It produces Barbera, Merlot, Petite Sirah, Grenache and Cabernet Sauvignon, among other wines, including some from other areas.
Wineries today are centered primarily in the towns of Grass Valley and Nevada City, numbering about a dozen in all.