By the numbers
Year End 2019
8

AVAs

85

Wineries

20%

Total Plantings

40, 469

Acreage Under Vine (Hectares)

800,000

Crush (Tons)

2,265,347,727

Crush (Liters)
100,000

Acreage Under Vine (Acres)
Key Varieties
Cabernet Sauvignon (23%), Zinfandel (16%), Chardonnay (15%), Merlot (10%), Pinot gris (8%), Petite Sirah (6%)
Key Soil Types
Tokay series (fine sandy loam), San Joaquin series (shallow sandy clay loam), Redding series (gravelly clay)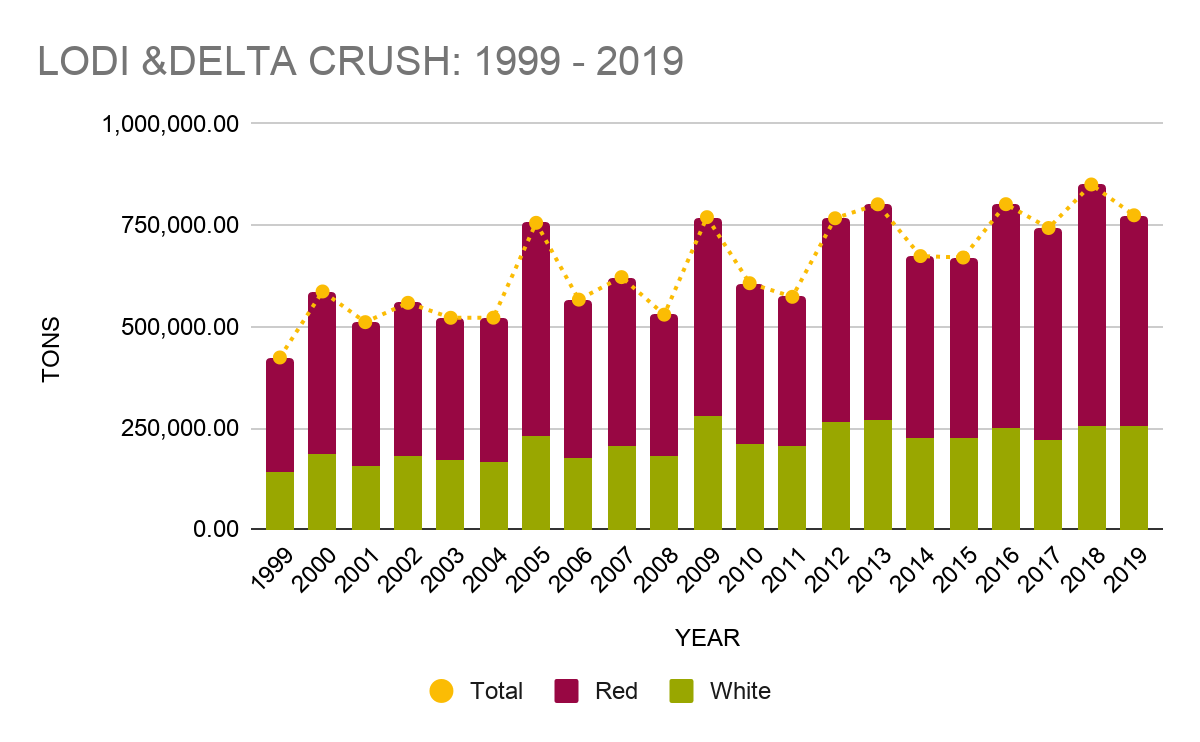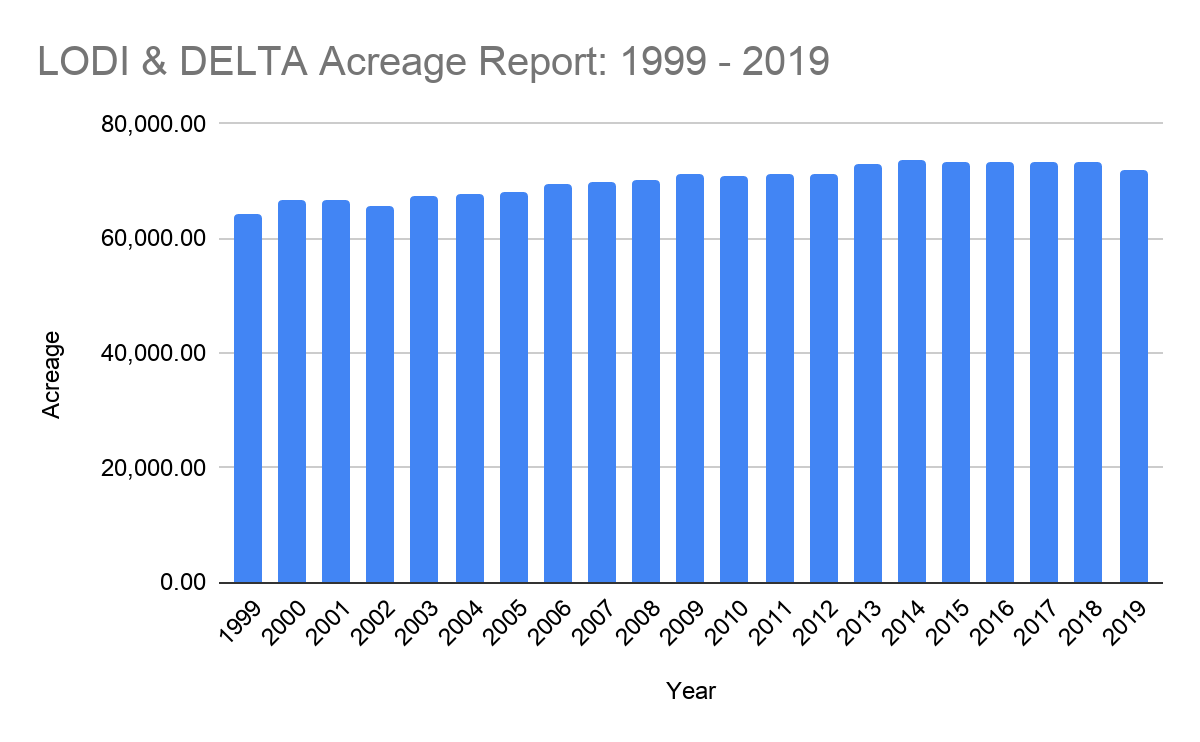 Overview
The Lodi AVA is America's largest in terms of plantings, hovering just over 100,000 acres (40,469 ha) of winegrapes, approximately as much as all of Napa Valley and Sonoma County combined, or all of Washington and Oregon plus another 30%. Lodi is defined by a Mediterranean climate (dry, warm summers naturally conducive to over 100 varieties of commercially grown Vitis vinifera) and well-drained soils, ranging from deep sandy loam soils to shallow sandy clay loam terraces and rolling hillsides of gravelly or cobbled (with stones mixed in) clay.
While Lodi is located east of San Francisco Bay in California's Central Valley, between the cities of Sacramento to the north and Stockton to the south, it is the unimpeded marine air, or "Delta Breeze," flowing through the Sacramento-San Joaquin River Delta, lying below sea level in the only large gap in the entire California Coast Ranges, that gives Lodi a climate classification similar to the north end of Napa Valley and the north-east corner of Sonoma County. In terms of Winkler degree-days, approximately 78% of the Lodi AVA consistently falls within Region IV, with its 22% variance veering into Region V in the region's northeast corner and dipping into Region III in cooler vintages.
Winegrapes have been planted in Lodi since the 1850s, although more than half of Lodi's current acreage was planted after the region was established as an AVA in 1986.
Today Lodi functions primarily as the California wine industry's leading supplier of popular grapes (Cabernet Sauvignon, Chardonnay, Merlot, Pinot gris/grigio, Pinot noir, etc.). There is, however, a steadily growing number of small, handcraft wineries specializing in heritage grapes such as Zinfandel, Carignan and Cinsaut, as well as a diverse range of varieties from Albariño to Zweigelt, Teroldego to Tempranillo, Piquepoul to Pinotage, Verdejo to Vermentino. Many Lodi wineries and vineyards are owned and operated by third- to sixth-generation farming families. This multi-generational factor is also a primary reason why Lodi developed the world's first formal system of certified sustainability (LODI RULES for Sustainable Winegrowing, evolving from the Lodi Winegrower's Workbook introduced in 1999), since duplicated and utilized all around the world.